OLYMPUS PROFESSIONAL DICTATION SYSTEM
EXPERIENCE THE REAL SOUND OF SUCCESS DRIVEN BY OLYMPUS PROFESSIONAL DICTATION SYSTEMS TECHNOLOGY.
With an Olympus Professional Dictation System, Dictation is about more than just premium hardware. It's about creating documents far quicker than before – and with far more flexibility. Record your dictation, transfer it as a digital file to your computer, then e-mail it to a transcription service – either in-house or external – or import it to a voice-recognition program. Combine that with VIP's technical support and setup up assistance, you can be assured the you will receive the most advanced and easy-to-use dictation and document creation technology today.
OLYMPUS PROFESSIONAL DICTATION SYSTEMS
THE FUTURE OF DICTATION
THE FUTURE OF DICTATION LIES IN EFFICIENT DOCUMENT CREATION THROUGH SPEECH RECOGNITION
ODMS R6 has the ability to work hand in hand with the Dragon NaturallySpeaking (DNS) software. A recorded dictation file can be converted to text automatically using voice recognition software. ODMS R6 comes with a collection of voice recognition functions that have been dramatically improved and enhanced.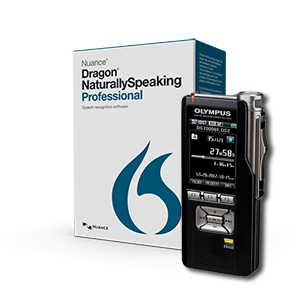 HEALTHCARE
Faced with the public's ever-growing need for healthcare services, doctors, radiologists, nurses and their employers are always looking for ways to improve efficiency at their practices and hospitals. Olympus Professional Dictation equipment (digital voice recorders and USB microphones) securely streamlines the recording and dissemination of critical patient data and notes, saving time and money… Learn More
LEGAL
Modern technology is enhancing the way lawyers interact with clients. It has also changed how firms manage their business and has altered the approach on how information is shared. Specifically, advances in digital technology within the dictation and transcription process have transformed how law firms process recorded information immediately, efficiently and securely… Learn More
LAW ENFORCEMENT
Law enforcement officials are tasked with one of the most critical roles in our communities: keeping our families safe. To do that – and make the most of taxpayer dollars – it is essential that they complete their work efficiently and accurately. That's why more and more law enforcement workers are turning to Olympus Professional Dictation Systems and digital voice recorders… Learn More
No Results Found
The page you requested could not be found. Try refining your search, or use the navigation above to locate the post.
No Results Found
The page you requested could not be found. Try refining your search, or use the navigation above to locate the post.