BEING PRODUCTIVE WHEN OTHERS ARE UNPRODUCTIVE
With an Olympus Professional Dictation System, Dictation is about more than just premium hardware. It's about creating documents far quicker than before – and with far more flexibility. Record your dictation, transfer it as a digital file to your computer, then e-mail it to a transcription service – either in-house or external – or import it to a voice-recognition program. Combine that with VIP's technical support and setup up assistance, you can be assured the you will receive the most advanced and easy-to-use dictation and document creation technology today.
OLYMPUS PROFESSIONAL DICTATION SYSTEMS
THE FUTURE OF DICTATION
THE FUTURE OF DICTATION LIES IN EFFICIENT DOCUMENT CREATION THROUGH SPEECH RECOGNITION
ODMS R7 has the ability to work hand in hand with the Dragon NaturallySpeaking (DNS) software. A recorded dictation file can be converted to text automatically using voice recognition software. ODMS R6 comes with a collection of voice recognition functions that have been dramatically improved and enhanced.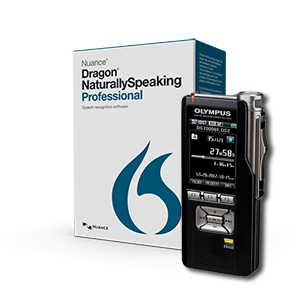 Simplifies professional dictation with enhanced clarity and flexibility.
WiFi connectivity, intelligent dual microphone noise cancellation technology and impact resistant body increases workflow efficiency for today's professional.
Efficient workflow with Wi-Fi. Share your dictation anytime, anywhere. Thanks to the Wi-Fi connectivity, Authors no longer need to carry a PC to download the dictations
Superior accuracy. The intelligent dual microphones control the directionality to keep the focus on the person dictating and suppress ambient noise in offices, hospitals, cars, airports and other noisy environments.
Durable and Secure. Rugged 1.5-meter-shockproof, alcohol-wipe-resistant body is designed to be a strong, dependable workhorse in heavy-use environments. And with dependable security, including a 256-bit AES encryption system, it far surpasses the capabilities of typical smartphone recording devices.
Record and Edit with Ease. An ergonomic slide switch makes recording comfortable and fast, and a classic, intuitive interface allows for single handed and blind operation. Just a flick of the thumb takes you back to your intended place or back-start without looking at the screen.