PRODUCTIVITY ON THE GO
LFH7400
with a professional dictation solution The Philips recorder app is designed to fit perfectly with the Philips SpeechExec software suite. Recording, editing, and sending dictation files from your Smartphone offers mobile flexibility and reduces document turnaround times.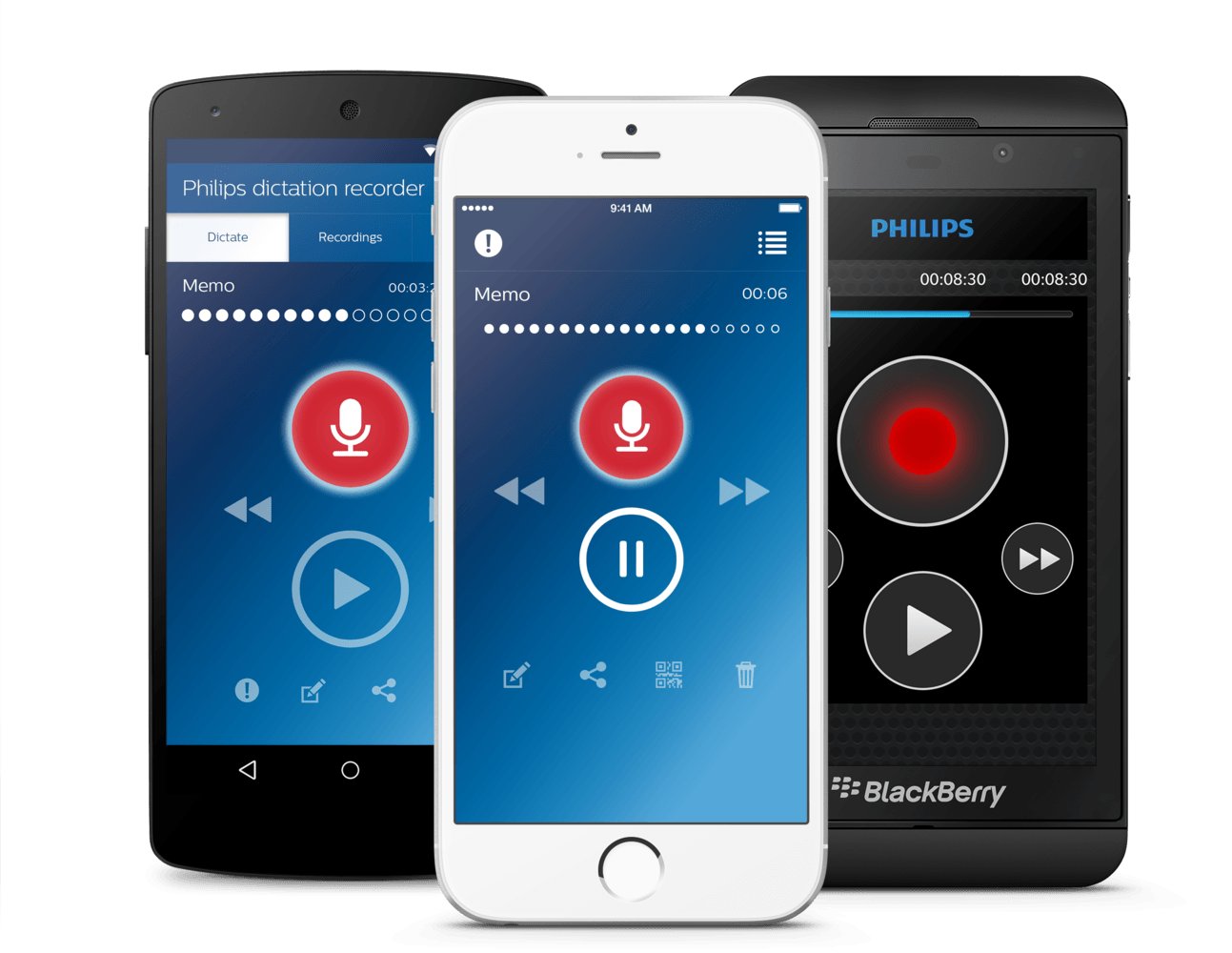 Limitless mobility
with a professional voice recorder app
The new Philips voice recorder app allows you to be productive on the go. Record, edit and send your recordings for transcription from anywhere and reduce your document turnaround times. The app allows you to take advantage of every spare minute; whether it is time spent outside your office, travelling in your car or waiting at the airport.
The app offers professional recording as well as editing functions, such as insert, overwrite, append and cut recording sequences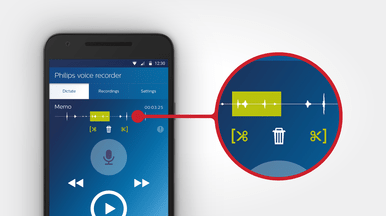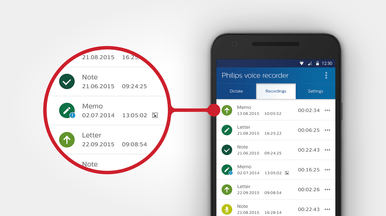 You can assign properties to your recordings such as an author name, recording type and category. These will make the categorization and management of dictations a lot easier.
The included priority-setting option can be used to alarm transcriptionists that a recording is urgent and should be processed with priority. This helps urgent tasks get processed quicker.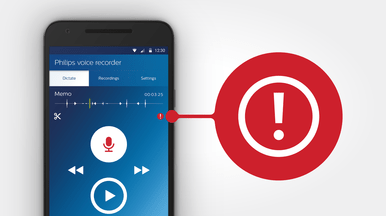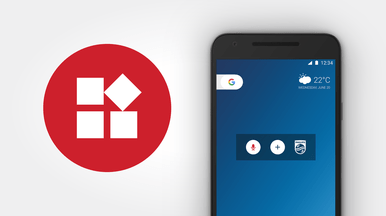 The widget is a shortcut button which you can place on your mobile home screen. Once clicked, it immediately starts recording, saving you time and hassle. This is also perfect for spontaneous recordings.
The barcode scanning option enables you to link client or patient data to a recording by simply scanning over a barcode, even from a display. This ensures reliable assignment of your files and speeds up your workflow.
You can easily import your client or patient list, making it easier to assign recordings to the correct file and speed up transcription.
The car mode is perfect when you are driving or on the go. It provides a simplified interface with large buttons, so you do not need to glance down at your mobile when you are dictating.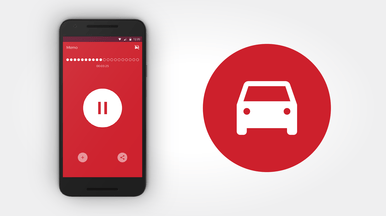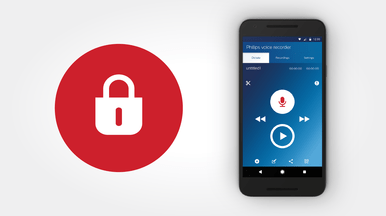 To make sure your data is kept completely safe, file transfer is encrypted via SSL technology and for maximum security, you can even encrypt your recordings.
The app allows you to customize its buttons to fit your individual preferences, so you can record, edit and send dictations quickly and easily.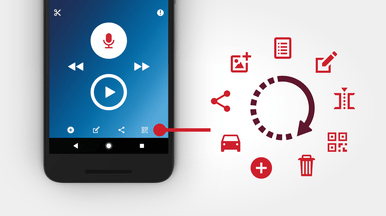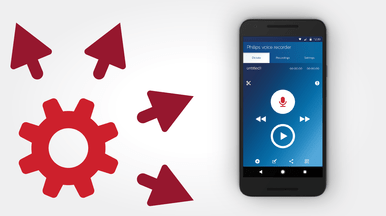 IT administrators can centrally manage, configure and update the dictation app across multiple mobile phones, saving time and resources.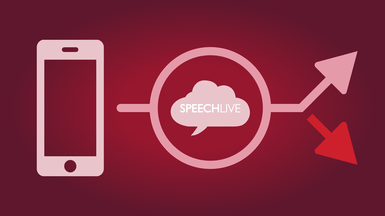 Philips SpeechLive
– Cloud-based dictation workflow solution
– Offers full and flexible scalability for every company size, from 1 to 80 employees
– Activates the status bar in the app, showing you the progress of your transcriptions
– Optional speech recognition service
– Optional transcription service
– Available for iPhone, Android and BlackBerry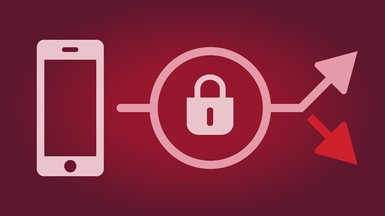 Philips Mobile Server
– On-premise web server solution
– Allows you to attach and send images with your recordings
– You can install up to five Mobile Servers in multiple locations
– Allows you to change the audio format, rename the file and deploy it to up to five keyword dependent destinations
– Available for iPhone and Android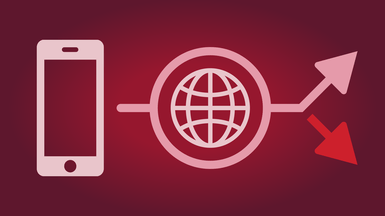 Philips Dictation Hub
– Philips hosted dictation workflow
– Keyword dependent
– Allows you to change the audio format, rename the file and deploy it to up to five keyword dependent destinations
– Available for iPhone, Android and BlackBerry
iPhone
Supported devices:

iPhone 5, 5s, 6, 6 Plus, 7, 7 Plus, 8, 8 Plus, X

Operating system:

iOS 11
Android
Tested devices:

Samsung Galaxy S7, LG G5, Google Pixel, Huawei Nexus 6P

Operating systems:

Philips voice recorder for Android has been tested on the devices above but should be compatible with all Android devices that run Android 4.2.1 and up.
BlackBerry 10
Supported devices:

BlackBerry Z10, BlackBerry Q10, Blackberry classic, Blackberry Z30, Blackberry Passport

Operating system:

10.0 to 10.3
Mobile Server requirements
Processor:

Intel i3 or or faster processor

RAM:

4 GB

Hard-disk space:

2 GB

Operating system:

Windows Server 2012 (64 bit), Windows Server 2008 R2 (64 bit)

Microsoft .NET Framework 4.0

Microsoft SQL Server 2014 SR2, 2016

Web server software:

Microsoft Internet Information Server (IIS) 8.5 for Windows Server 2012, Microsoft Internet Information Server (IIS) 7.5 for Windows Server 2008 R2, Apache 2.2 and 2.4

Web server scripting languages:

Active Server Pages (ASPX) or PHP
Security
Up to 256-bit file encryption

Encrypted file transfer via SSL